We offer Custom Western Saddle Sets built exclusively for the model horse collector! PLEASE NOTE: these are model horse size, not live horse size! An average of 50 hours goes into each hand built set with quality that truly resembles "The Real McCoy"!!
I would like to add a special thank you to Terry Newberry for the inspiration behind my custom tack and my husband, Roger, who builds the real ones and gives me advice on the smaller scale ones!
I will consider trading for a braided bridle/breastcollar set by Susan Young!!
Here's a photo of the pleasure saddle set I CM built for the NAN 2002 Auction! This is some of my best work ever, and I'd like to thank Rio Rondo for providing us tackmakers with some awesome building supplies!
Pictured on Cow-Horse's own SR Miss Dainty Doc, in the glossy version! This deluxe pleasure set is very versatile and will fit a variety of models and resins. The gorgeous blanket accenting it is the work of Ingrid Mattes, one of the top blanket makers in our hobby!
Deluxe Western Pleasure set owned by Linda Peacock!
Below are more pictures of the set, compliments of photography by Debbi LerMond. It's gorgeously displayed on Debbi's beautiful "Mirage" resin, painted a stunning fleabitten gray by Karen Caldwell. The gorgeous blanket; again by the talented Ingrid Mattes!
"THE REAL McCOY" Custom Tack presents to you....
Some of my proven winners and customs!
Deluxe dark Western Pleasure set also owned by Linda Peacock!
---
Square Skirted Cutter owned by Holly Leatherman!
Holly's Cutting setups usually sweep 1st and 2nd wherever she goes!
---
All-Around Saddle set with spots owned by Shawna Meier!
---
Pleasure Saddle Set owned by Kimi Lovelace!
---
My signature All-Around set sporting silver spots and saddle strings owned by Karen Meekma!
Karen's two sets recently cleaned house at the Fox River Valley Show, bringing home 11 NAN cards in one day!
---
All-Around Set owned by Jennifer Reid!
---
Trophy Saddle Winners from my Cow-Horse Classic Live Show!
All-Around winners Debra Omel and Diana Patterson, congratulations!
---
Barrel Racing Saddle Set owned by Karon Grieve!
---
All-Around Saddle Set owned by Alaina Richardson!
(Check out her cool props in the background - thanks Alaina!)
---
All-Around Saddle Set owned by Karen Meekma!
---
Western Pleasure set with fancy Romel reins owned by Debra Omel!
Debra was part of the coloboration behind the paint design for Imperial Dynasty (the Peter Stone ISH this set is photographed on) from my personal collection!
---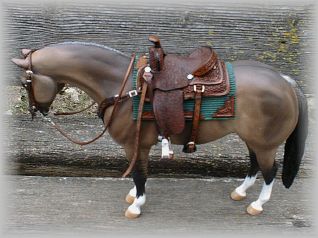 Roping Saddle Set with Buckaroo Headstall owned by Laura Fowler!
---
JAMBOREE 2000 REServe GRAND CHAMPION
Custom Cutting Saddle Set owned and shown by: Holly Leatherman!
Holly's my biggest fan and also one of my best friends- thanks for encouraging me to start making model horse tack, and motivating me along the way!
---
NAN & JAMBOREE 3rd PLACE WINNER!
Custom Cutting Set Owned and Shown also by HOLLY LEATHERMAN!
This cutting set is my all-time favorite!
---
Western Pleasure/Reiner Saddle Set owned by Sheri Rhodes!
Custom bosal with mecate reins made by Darla Curtis! Check out Darla's website under my links for the best halters and bosals around!
---
This All-Around Western Performance set was auctioned at the Heart of the Rockies Live/Big Sky Live Show held in Kalispell, MT! Owned by Lisa Axnick!
---
Custom All-Around Tack Set owned by Carrie Anderson!
---
Custom Saddle Set owned by Janet Leli!
Janet owns the first saddle set I ever made - someday when I'm famous, haha, she'll own the set that started it all for me!
---
Custom Saddle Set owned by Samantha Cato!
---
Custom Saddle Set owned by Angela Clark!
---
Custom Saddle Set owned by Kim Janes!
---
THE REAL McCOY Proudly teamed up with The Peter Stone Co. and their
SPRING FLING EQUILITH GIVEAWAY!
Krissy Colburn was the lucky winner of this set!
Bookmark us and check back soon!
[ABOUT US] [MODEL HORSES] [SILHOUETTES] [HOME]